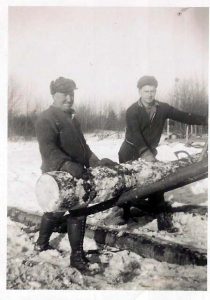 My Great Great Grandfather Frederick Hass emigrated from Brandenburg, Prussia with his wife, Charlotte (nee Jaster) and six of their children in 1881 – source: Brandenburg, Prussia Emigration records.
They came from Schwachenwalde/Arnswalde, Brandenburg, Prussia which is near Berlin. They sailed on the ship,"Verzeichniss" leaving port on October 19, 1881. They arrived in New York on November 2, 1881. They first settled in the Pembrooke, Ontario area. According to family members in the Eganville area, their first farm was near Dore Lake. I'm not sure how long the family was there but apparently they ended up losing this farm.
In 1886, Frederick Hass Jr. bought 300 acres near Clontarf, Ontario for one dollar an acre from the Turner Family. He borrowed the money from the bank at 6% interest. This farm is still in the family, owned by Morley Hass, Frederick Sr.'s Great-Grandson. As far as I know, my Great Grandmother Augusta Hass lived on this farm until she married Ferdinand Trebbien in 1907. They owned the farm next to the Hass farm and she lived there until her passing in 1948.
~Ed Hass