Hass Family – A BRIEF HISTORY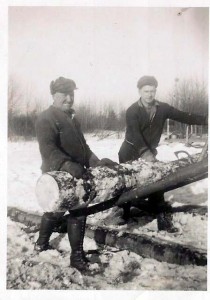 Grandpa Hass and Dad at work, French River, Ontario
My Great Great Grandfather Frederick Hass emigrated from Brandenburg, Prussia with his wife, Charlotte (nee Jaster) and six of their children in 1881 – source: Brandenburg, Prussia Emigration records. They came from Schwachenwalde/Arnswalde, Brandenburg, Prussia which is near Berlin. They sailed on the ship,"Verzeichniss" leaving port on October 19, 1881. They arrived in New York on November 2, 1881. They first settled in the Pembrooke, Ontario area. According to family members in the Eganville area, their first farm was near Dore Lake. I'm not sure how long the family was there but apparently they ended up losing this farm. In 1886, Frederick Hass Jr. bought 300 acres near Clontarf, Ontario for one dollar an acre from the Turner Family. He borrowed the money from the bank at 6 % interest. This farm is still in the family, owned by Morley Hass, Frederick Sr.'s Great-Grand Son. As far as I know, my Great Grandmother Augusta Hass lived on this farm until she married Ferdinand Trebbien in 1907. They owned the farm next to the Hass farm and she lived there until her passing in 1948.
A family history is about more than one family. To start with the main families are Hass, Croteau, Horth & Joseph but we are also working on Lisa's family history which includes Kelly, Campbell, Hoare, Marchington and Wilsons.
To all the people who have helped me with this search, THANK YOU.
please feel free to email me at [email protected]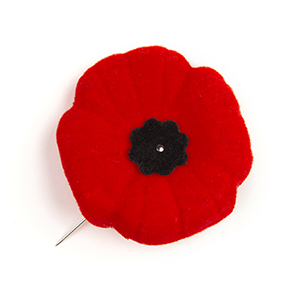 Ed Hass Sr. in the second world war
Fours years! Four long years away from home, away from your new wife. Four years in foreign lands. Four years of being in danger constantly. For a young man whose biggest trip to date was to Sudbury by train, I can't imagine how Dad felt, how it changed him.
But Dad did answer the call of duty and volunteered to go overseas. How could I sum this up in a few words, "He went to war"? I needed to give this the time it deserves.
Dad was with the First Canadian Infantry Division, First Brigade which was made up of three Regiments, The 48th Highlanders, The Hasty "P's" and The Royal Canadian Regiment (RCR). Dad was a proud member of the RCR's and was in "D" company. In researching the regimental history I had a good idea where Dad was during the war. For instance, when the RCR's landed in Sicily on Sept. 10, 1943, C and "D" Companies were in the lead. By 9 am the RCR reached their objective, Pachino airport with "D" company in the lead. "At 1400 hrs while the Battalion was reorganizing, "D" Co. moved to high ground covering enemy approaches, but to get there they had to run the gauntlet of the fiercest machine gun fire of the day and despite suffering casualties they took their objective and 40 prisoners"… Click to read the rest of the story